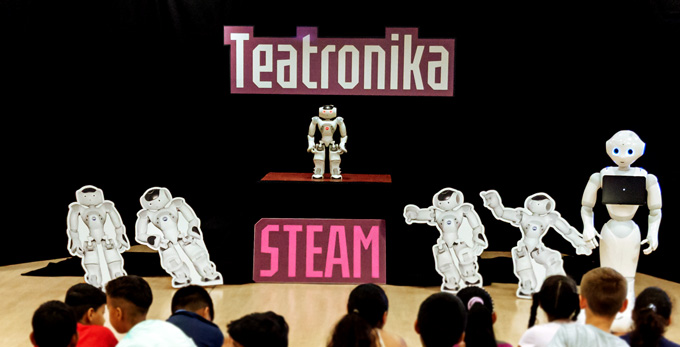 Teatronika STEAM is a method for working in the areas of education, culture, arts, technology, and science. It is a matrix that intersects the components of expressivity with performing arts, artificial intelligence and robotics, as elements that can't be divided when studied in primary and secondary schools.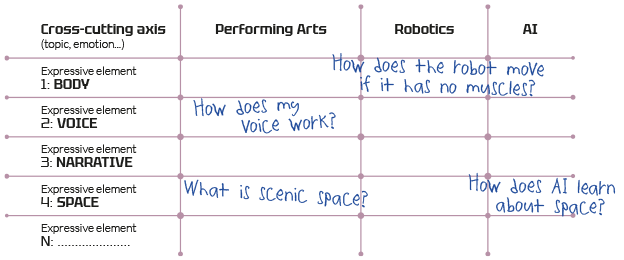 It can be implemented in four areas:
TEATRONIKA STEAM IN THE CLASSROOM:
PRIMARY AND SECONDARY SCHOOLS
We offer two different approaches: a first one that is directly related to the curricular competences of the group where it is implemented, and another one where it becomes a project partially independent of the curriculum and that is put at the service of topics of general interest, such as the personal growth of the students, as a group cohesion activity or to deal with a specific topic (gender, emotions, environment, etc.). As an artistic creation, the result is open to any language, and can incorporate, among others, audiovisual production, comics, theatre, and stage poetry.
TEATRONIKA STEAM FOR TEACHERS
It provides information and training in performing arts, AI and robotics, which teachers can incorporate into their educational activity in different ways: as a method, content or added component. In any case, it is based on the diagnosis of needs, and it is codesigned with the school, and it can result in one-time training sessions, a training plan for the teachers or a long-term support in a specific area, among other things.
TEATRONIKA STEAM: EDUCATIONAL PROJECT
This environment, at the same time and in a transversal way, questions education professionals, students and the educational event, on the basis of the school's educational project, or other formats of educational events, such as a didactic unit, a specific initiative or the school's holiday calendar. It can be implemented as a one-time project, or it can become a contribution that the school uses and applies to its activities in a systematized way. In this case, the project will be built taking into account its sustainability, bearing in mind the aspects that may weaken it over time, in order to foresee actions to prevent this, such as providing resources for the management team and the teaching staff to update the project.
TEATRONIKA STEAM EXTRACURRICULAR
The content, method, and results of this implementation environment are similar to those of Teatronika in the classroom as an independent project. The coordination and adaptation of the format is carried out with the school or entity that organizes the activity, with whom the framework of the project and the space it will have in its programming is decided, as well as whether it will be related to other activities or contents.